Future Concerts: a selection
21 March 2020: Elgar: A Dream of Gerontius, East Sussex Bach Choir, St Bartholomew's Church, Brighton
4 April 2020: Bach: St John Passion, Eastbourne Chorus, Eastbourne
5 April 2020: Buxtehude: Membra Jesu Nostri plus Victoria, Schutz, Pergolesi, East Sussex Bach Choir, St Anne's Church, Lewes
10 April 2020: Buxtehude: Membra Jesu Nostri plus Victoria, Schutz, Pergolesi, East Sussex Bach Choir, Firle Church, Lewes
23 May 2020: Mozart: Mass in C minor, East Sussex Bach Choir, Lewes
23-25 July 2020: Lewes BaroqueFest!, including Handel: Dixit Dominus, Baroque Collective Singers
Selected Concerts 2020
22 February 2020: workshop on Bach: Singet dam Herrn and Bach: Lutheran Mass for North East Early Music Forum, Newcastle
Selected Concerts 2019
16 February 2019: Handel and Vivaldi, Baroque Collective Singers and Players, Lewes
18 March 2019: workshop on Purcell: Fairy Queen for Midlands Early Music Forum
30 March 2019: Brahms: Requiem, Eastbourne Choral Society, Eastbourne
13 April 2019: J S Bach: St John Passion, East Sussex Bach Choir, Lewes Town Hall
18 July 2019: Lewes Baroque Festival concert with Baroque Collective Singers
20 July 2019: Handel: Israel in Egypt, East Sussex Bach Choir, Lewes Town Hall
14 September 2019: workshop on Purcell: Fairy Queen for Southern Early Music Forum
15 September 2019: Faure: Requiem, Baroque Collective Singers, Chailey Heritage Foundation
9 November 2019: Handel: Semele, BREMF Singers and Players, Brighton Early Music Festival
17 November 2019: artistic director for fundraising concert for Homelink, Glyndebourne Opera House
15 December 2019: artistic director for fundraising concert for Amnesty International, Lewes
22 December 2019: Handel: Messiah, Baroque Collective Singers, The Baroque Collective, Lewes
Selected Concerts 2018
18 March 2018: workshop for voices and instruments for the Southern Early Music Forum
21 March 2018: European Day of Early Music with the BREMF Singers, Brighton
24 March 2018: Vaughan Williams: Sea Symphony, Eastbourne Choral Society, Eastbourne
25 March 2018: J S Bach: St Matthew Passion, East Sussex Bach Choir, Fletching Singers, Hove
21 April 2018: J S Bach: Mass in B minor, East Sussex Bach Choir, The Baroque Collective
26 May 2018: Stravinsky: Symphony of Psalms and Bernstein: Chichester Psalms. Workshop day in Lewes with Nicholas Houghton
30 June 2018: East Sussex Bach Choir concert
7 July 2018: Eastbourne Choral Society concert
8 July 2018: Lewes Festival of Song with the Baroque Collective Singers, Lewes. Including world premiere of 'Silence' by Orlando Gough
28 & 29 July 2018: Handel: Israel in Egypt, East Sussex Bach Choir Singing Weekend
8 December 2018: Handel: Messiah Part 1, Britten, Buxtehude, East Sussex Bach Choir, St John sub Castro, Lewes
14 December 2018: O Magnum Mysterium: fundraising concert for Lewes Festival of Song with the Baroque Collective Singers
Selected Concerts 2017
19 February 2017: Purcell: Dido and Aeneas with the Baroque Collective and Baroque Collective Singers
1 and 8 April 2017: Mozart: Requiem with Eastbourne Choral Society, Eastbourne and Brandenburg Choral Festival, London
9 April: A Lenten Meditation with East Sussex Bach Choir
29 April 2017: Haydn: Creation with East Sussex Bach Choir
13 May 2017: 'Sing and Discover' with Richard Wigmore, Rochester
8 July 2017: Eastbourne Choral Society Summer Concert, Eastbourne
20-27 August 2017: AIMS Summer School
16 September 2017: Purcell: King Arthur: day workshop for voices and instruments for the Midlands Early Music Forum 
30 September 2017: 'Sing and Discover' with Richard Wigmore, Eastbourne Choral Society: 'A late Harvest' working on Haydn: Creation and The Seasons
7 October 2017: 'Sing and Discover' with Richard Wigmore, East Sussex Bach Choir, Lewes: 'Myths & Misconceptions' working on Mozart Requiem and Mass in C minor
12 November 2017: J S Bach: Christmas Oratorio, Brighton Early Music Festival, The BREMF Singers, The BREMF Players
25 November 2017: Haydn: Seasons with Eastbourne Choral Society
9 December 2017: Christmas Concert with East Sussex Bach Choir, Lewes
17 December 2017: Artistic Director for 'In the Bleak Midwinter', concert in aid of Amnesty International
23 December 2017: Handel: Messiah with The Baroque Collective and The Baroque Collective Singers
Selected Concerts 2016
13 February 2016: Sing and Discover day with Eastbourne Choral Society
21 February 2016: Handel: Dixit Dominus and Bach: Singet dem Herrn with the Baroque Collective Singers and Players led by Alison Bury
19 March 2016: Bach: St John Passion with East Sussex Bach Choir
28 May – 5 June 2016: Purcell: King Arthur fully staged performance with New Sussex Opera
3 June 2016: Lewes Festival of Song: programme to include Poulenc, Britten, Hindemith with Baroque Collective Singers
18 June 2016: Shakespeare programme with East Sussex Bach Choir
August 2016: AIMS International Summer School: tutor
17 September 2016: Purcell: Dido and Aeneas: choral workshop in Didsbury for North West Early Music Forum
6 November 2016: Brighton Early Music Festival: Purcell: King Arthur  and Welcome to All the Pleasures BREMF Singers
3 December 2016: Bach: Christmas Oratorio with Eastbourne Choral Society
10 December 2016: Handel: Messiah with East Sussex Bach Choir
Selected Concerts 2015
12 December 2015: Charpentier: Messe de minuit pour Noel and seasonal music with Baroque Collective Singers
5 December 2015: Bach: Christmas Oratorio with East Sussex Bach Choir
7 November 2015: Brighton Early Music Festival: BREMF Singers: Handel Acis and Galatea
24 September 2015: Hurst Festival: Baroque Collective Singers: Brahms: German Requiem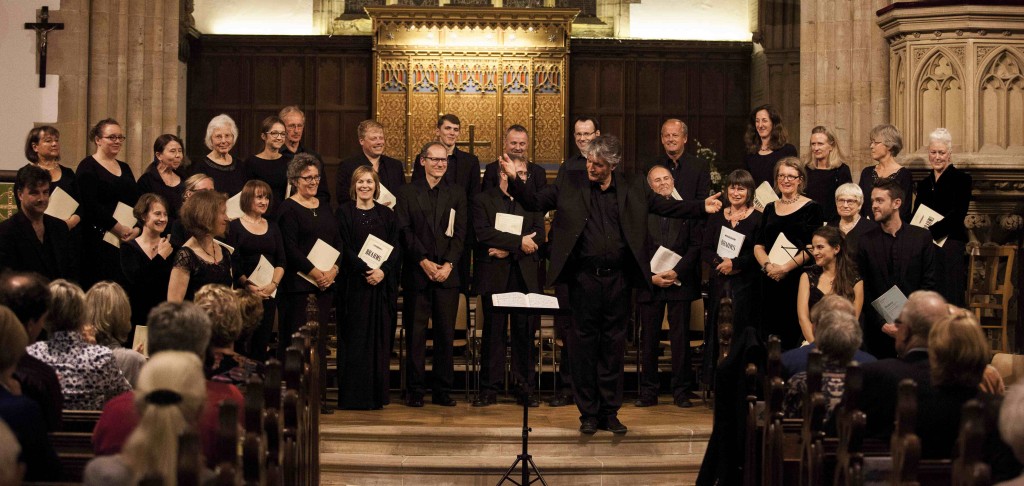 29 March 2015: Baroque Collective Singers: Vivaldi: Magnificat; D Scarlatti: Stabat Mater; Buxtehude: Jesu Membra Nostri. St John sub Castro Church, Lewes
25 April 2015: Handel: Samson with East Sussex Bach Choir
Concerts 2014: selected concerts
29 March 2014: Elgar's Dream of Gerontius with Eastbourne Choral Society and East Sussex Bach Choir
13 April 2014: Schutz: St Matthew Passion with Baroque Collective Singers
18 April 2014: Handel: Messiah with East Sussex Baroque Choir and the Baroque Collective
13 May 2014: Helen Glavin: Battle of Lewes Cantata with the Everyman Ensemble, Lewes Town Hall
14 May 2014: Brighton Festival: Gavin Henderson celebrates 50 years at St Bartholomews: featuring Emma Kirkby, BREMF Singers
31 May 2014: Mozart: Coronation Mass with East Sussex Bach Choir. Soloists to include Sir John Tomlinson. Led by violinist Alison Bury.
17-24 August 2014: AIMS International Music School: coaching
26 October 2014: Baroque Collective Singers: 'The Winter of the World' with Gareth Hancock, piano. Including Howard Goodall: In Flanders Field; Brahms: How lovely are thy dwellings; Thomas Tallis: Salvator Mundi. All Saint's Centre, Lewes.
9 November 2014: Brighton Early Music Festival: BREMF Singers. Purcell: Hail Bright Cecilia; Handel: Utrecht Te Deum
6 December 2014: Haydn: Nelson Mass; C.P.E. Bach: Magnificat with East Sussex Bach Choir
Concerts 2013: selected concerts
Baroque Collective Singers: a new choir for Lewes:
Sunday 15 December 2013 at 6pm, St John sub Castro, Lewes
John Hancorn conducted the inaugural performance of the Baroque Collective Singers on Sunday 15 December. The Singers are a hand-picked choir of the very best local singers, to complement the Baroque Collective players. Repertoire included Britten's Ceremony of Carols, Bach's motet Singet dem Herrn, works by Poulenc and Whitacre and a new carol 'Christmas is Darkness' by composer Ed Hughes. Recordings here.
Noye's Fludde in Lewes: sold out performances
Noye's Fludde in Lewes on 12 October 2013 was a huge success with two sold-out performances seen by over 600 people. Further information here.
Reviews for 'A Buried Flame' recording on 'Dark Formations' CD
John Hancorn's performance of Ed Hughes's a cappella 'A Buried Flame' with the New Music Vocal Ensemble has been praised in the national and international press:
'a passionately committed performance'
Paul Conway, Tempo magazine, August 2013
'The performance of A Buried Flame is simply outstanding… it remains a powerful statement and one that reverberates long after the music finishes.'
Colin Clarke, Fanfare Magazine (US), November 2012
CDs and downloads available here